So you want to market yourself or your business on Facebook? You are right on track! Facebook is a major source of traffic that can bring in leads, customers and new business.Many businesses overlook this relatively inexpensive, highly effective marketing strategy. Not only can you garner new customers, but you can even target a specific age group, gender or even status. Married? Single?
So how can you make the most of your time using Facebook for marketing? Here are the top five things you should consider:
FACEBOOK MARKETING TIP #1 – Know Your Audience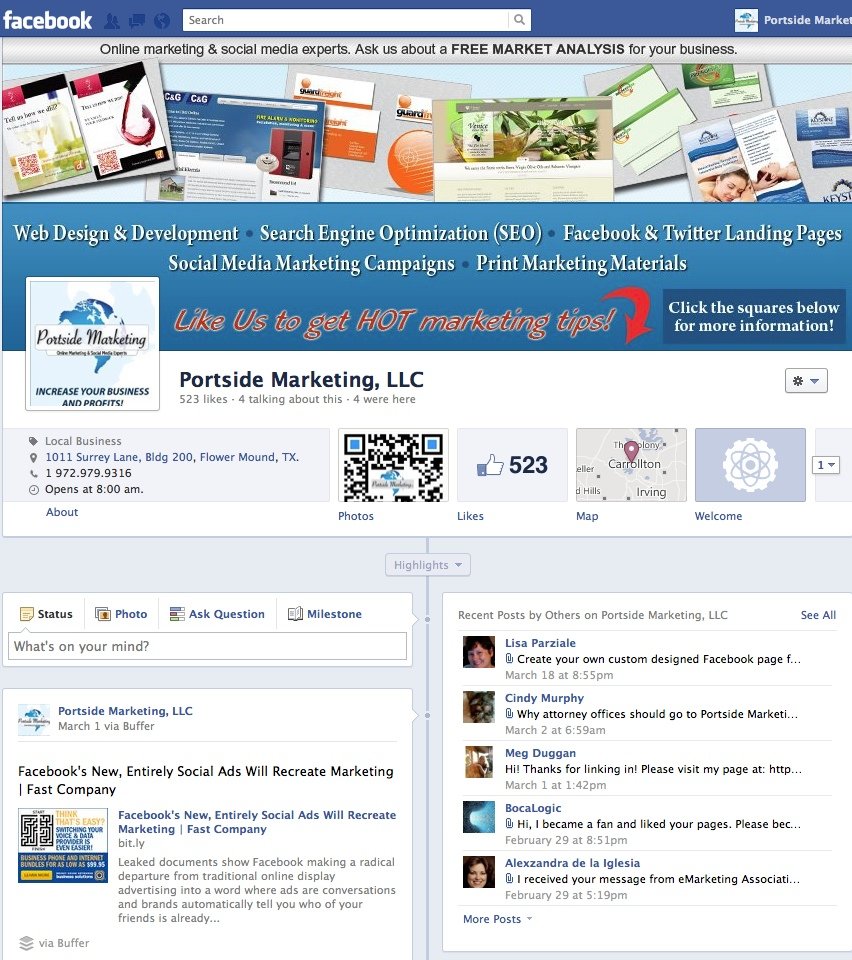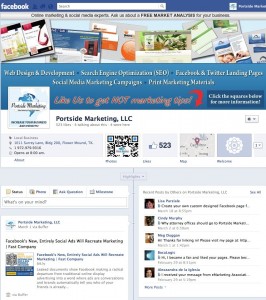 Know your audience. Facebook is a very keen marketing tool when you know your audience. Every Facebook user offers a wealth of information from their highly customized profile. Things that YOU can use to your benefit to market specific products and services through Facebook ads. With Facebook's new "time line" feature, even more information is being collected about consumers.
Can Facebook replace your website?
For example, a wedding photographer client of ours wanted to bolster business for engagement photo sessions. First, we need to identify our target market. Our client was in Dallas, so our target market looked like this:
Dallas engaged females.
Pretty easy right? Using these simple keywords, we now have a very specific market segment to target our ads. So, all we have to do now is get this target market to notice us!
FACEBOOK MARKETING TIP #2 – Get The Users Attention
So now we know who we need to target our ads for, the next tip is to create an ad that gets your target users attention. This is not as easy as it sounds, with all the information overload with visual elements competing for our attention.
Facebook ads are very small and compact, offering very little space to garner attention from your user. Your ad must be well thought out and in very few words entice your target user to take action. Using our example, we would add an image of a young couple posing for their engagement and as few words as possible that stand out and cause the potential customer to click!
FACEBOOK MARKETING TIP #3 – Deliver Your Pitch
Once you get the user to click on your ad, the next step is critical. Deliver your message to the user and ensure you include words and images that entice your potential customer to take action. Don't just talk about your prooduct and say, hey, look at us, we have good stuff. ASK FOR THE BUSINESS. Add some actionable items on the page. It does not matter whether the click dropped the potential customer off at a Facebook fan page or your website. The next step is to have an offer ready for them that they can take action on right away!
Using our same example, when the user clicks on the ad, we delivered them to a specific web page that ONLY that ad pointed to. It had some information about the studio but more important, it offered a great package for an engagement photo shoot. A very attractive price to get the new customer to pick up the phone and make an appointment to come in for a photo shoot. Not only did this ad deliver users to the page, but the page delivered appointments to the schedule and resulted in over $8000 in sales. Not bad for a small ad on Facebook that cost our client only our small fee and a few bucks in Facebook fees.
FACEBOOK MARKETING TIP #4 – Ask for Repeat Business
No matter how a user ends up on your Facebook fan page or website, you should convert that user into a customer. Obviously when you make a sale, you pretty much have the customer in your list to market to again and if you deliver stellar products or service, repeat business is inevitable. But what about that potential customer that was just browsing? How do you get them to give you their email address so that you can market to them again? Easy, give them something for free but require them to give you their email address in trade. It does not have to be much but it should be valuable to them! If you get what you want and they don't, they start off not having a good taste in their mouth. So think about what you could offer for free.
Let's stick with the same example, so you get an idea of the complete marketing strategy. The potential customer was presented with two choices, one to move forward and receive a nice package that was very valuable to get the photo sitting at a very reduced rate. If the user chose this option, they received one free 5 x 7 from the sitting. However, if the user chose NOT to sign up for the photo session, they saw another piece of information that enticed them to "like" the Facebook page. So in trade for "Free Wedding Planning Tips," a 20 page exclusive eBook on wedding tips, they were only asked to "like" the fan page. This allowed our client to build a list of new potential customers who would see their posts, tips and photo shoots of other couples, which eventually would turn into new business. How effective was this? 789 likes in the first month!
FACEBOOK MARKETING TIP #5 – Don't Waste Customers' Time
So you finally have a following of people that now "like" you on Facebook. Want to know the easiest way to lose them? Waste their time. If you promise that when they "like" you, you will do something, you better darn well do it. ANd don't spam them and lecture them. People like to buy from you not be sold! So give them exactly what you promised. In our example, we promised "Free Wedding Tips" and that is exactly what they received. Every week, our client posted tips about many things, including wedding cakes, dresses, renting your reception space and more. NOT tips on a wedding photo shoot. The idea is simple, if you offer value when they ARE NOT YOUR CUSTOMER all they can do is imagine "What if I were?" And besides, after the engagement comes wedding photos, baby photos, graduation photos. If your service is affordable and excellent, this technique pays for itself a thousand times over.
Author: Lisa Parziale, Co-founder of Portside Marketing, LLC
---
We hope you find this article informative and thought provoking. If you find you need assistance or simply do not have the time to build your Facebook or social media presence, no worries, just give us a call and we can help! 972.979.9316