Press Releases
Press releases are a fantastic way to gain publicity and market your event, product or company, along with a wide array of other uses that can actually boost your brand, popularity, relevance and even your search rankings.
Press Releases Highly Used for Marketing
So how effective can a press release be? Let's look at some press releases we have written and sent out on the wire recently and give you some statistics of what they were able to achieve.
The example to the right shows a press release that we wrote and published for Sweat and Stilettos, one of our clients who had just recently moved into a different city. We wanted to get the word out about her move but thought a press release about the classes would do the job in a much better, more newsworthy fashion.
Results achieved by the press release?
When anyone searches pole dance classes Dallas, the press release is #1 since Google News LOVES press releases. They are relevant and with some work on our end, can be ranked.
The article talks a lot about Sweat and Stilettos and they gain credibility with the Dallas consumer market.
The press release helps rank the customers website and web pages, as it has links back to the site.
The press release can and was picked up by other news sources both on and offline, giving it even greater exposure.
Press Releases by the Numbers
The press release took 1 day to rank #1 for most relevant key terms (this is not something just anyone can do – we are very good at SEO and can rank these most of the time, minimally in Google News)
The press release has been seen over 250 times in less than a week of being published
The company website gained 2 positions on their natural SEO ranking for two keywords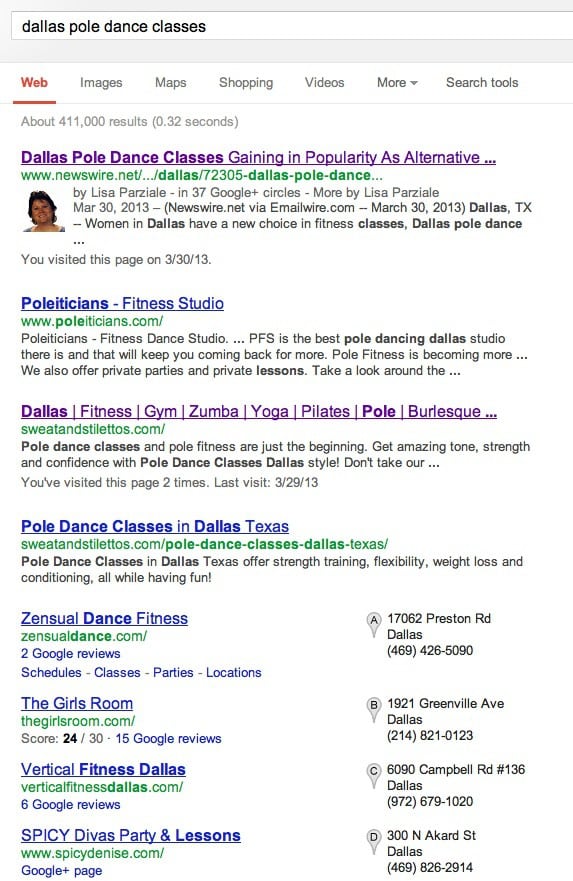 While we can never guarantee that a press release will get picked up by any news channel or have these types of results, we have had a 95% success rate and think that is enough to begin sharing this new marketing tool with our clients! If you are interested in purchasing a news release or some press releases, also note that there are ads we can run on the page WITH the release, giving you greater exposure.
If you would like to see more press release success stories, please click here.
Topic: Press Releases