Search Engine Optimization (SEO)
Portside Marketing has some of the top search engine optimization (SEO) experts in the country. Our web-based experts are headquartered in the Dallas / Ft. Worth metroplex, located in Flower Mound, Texas. We DO NOT offshore our work! Our team has optimized countless client websites with 100% success achieving Page One Placement or Ranking on Google, Bing, Yahoo, Ask, Altavista and more. Our reputation and accolades are well-known in the Dallas area but we can help any US-based company and many of our clients came to us as referrals from highly satisfied clients, some of which have been with us for over 12 years.
How can you dominate YOUR market with Search Engine Optimization (SEO)?
In the image below, you will see that we have dominated the market for one of our clients – reaching 7 spots on the first page of Google for this keyword and many more. This is what Search Engine Optimization and Google Maps Marketing is all about!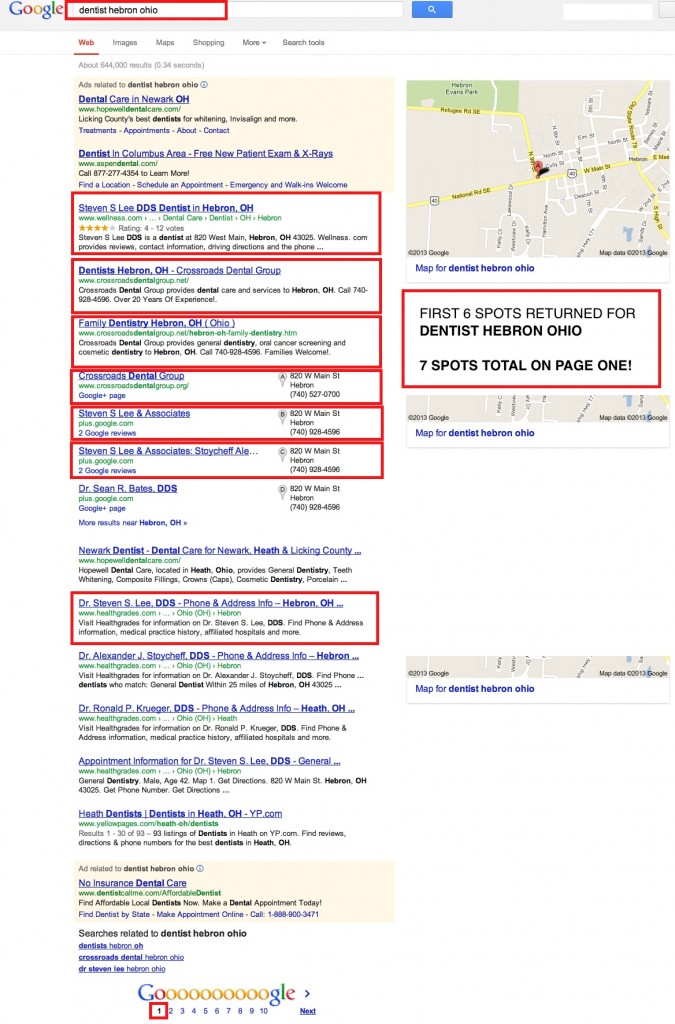 What is Search Engine Optimization (SEO) or Search Engine Marketing (SEM)?
Basically, Search Engine Optimization (SEO) or Search Engine Marketing (SEM) is the name for a combination of tasks that get your company ranked in Google and other search engines. The idea is to be ranked as high as possible. In order for customers and clients to find you, many look on search engines. There are over a billion websites today, so just building a website is not enough. For potential customers to find your company, you should be listed on page one or two (top 20 listings), but our goal is always on the first page (top 10 listings) for a minimum number of key phrases.
Key phrases are just a fancy way of saying "What your customers type in to search for you."  If your site is not listed within the top 2 pages then you will more than likely not be found.
You ideally are targeting Google, but Yahoo, Bing, but Ask and Altavista are still very popular so it can't hurt your search engine optimization SEO strategy target them as well. We will submit you to many more but optimizing for the big 3 (Google, Yahoo and Bing) will get you ranked on the rest. Once we register you, the search engines simply use programming to "crawl" or index your site. They will inventory your site, contents, links and the like, giving everything a weight. Just being indexed is not enough. To guarantee good rankings, you have to optimize the content, links, images and many other features for the best possible outcome. That is where we come in and how we can assist is using search engine optimization SEO techniques that are tried and true.
We perform a full market analysis to determine your market competition and focus on the most important element of your website – making it profitable! To that end, we utilize the most effective organic search engine placement and link building methodologies to push your website to the first page of the organic search results of the major search engines. We guarantee your website's first page ranking on major search engines or your full money back! Now, we cannot guarantee every key word or key phrase, but we will tell you exactly what we expect to achieve and guarantee a minimum result.
Can You Make Guarantees with Search Engine Optimization (SEO)?
Yes. We CAN guarantee that you will drastically improve your search engine placement if you follow our search engine optimization recommendations or use our Search Engine Optimization (SEO) services your website will move further up in the search results. And, we will guarantee that you make Page One on the major search engines for a minimum of keywords. How can we do this when others can't? Simple, we do our homework and do not stop until we succeed. What set's us apart from many other companies is the dedication, experience, knowledge and techniques Portside Marketing employs with each and every campaign. We do not automate or cheat the system. And, we never optimize search terms no one is looking for!
Call us today to learn more about Search Engine Optimization (SEO)