Success Stories
Keystone Rolfing & Massage hired Portside Marketing shortly after they expanded their business, tripling their space and moving into a more prominent location. After consulting with them, their main goal was to fill their calendars. With two full time therapists and hopes to hire a third, their focus was on gaining new, repeat business.
"Portside Marketing are expert social media marketers that have increased my website's action and number of new clients coming in off the web. They have also designed amazing print material that have WOWed everybody!" – Kathy Sadowski, Keystone Rolfing & Massage, September 11, 2011
After our initial consult, we had all the background and info we needed to create both a short and long term strategy. They had an existing website but had built it themselves, not understanding how to get it optimized to show up in searches and drive traffic to their website. So, one of our first goals was to update their website and build a portal chock full of information, content and customer aids to accommodate their potential customers, existing customers and of course, the search engines.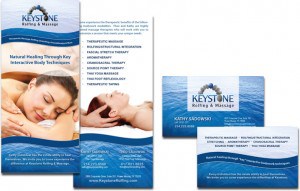 While building their online portal presence, we began a social media campaign to get the word out and establish their position in the market. Keystone had many very satisfied, repeat customers who were happy to review their services. Using a few key mobile applications, we also placed Keystone at the forefront of the local scene, getting them to the top five of the Google Local Places page withing two weeks.
To compliment their new online look and social media push, Portside Marketing re-branded Keystone with a new logo and business package that was much more powerful and targeted to inspire action and appointment bookings, including business cards, rack cards, post cards and more. What you say and how you portray your brand is key in delivering your message.
In less than three months, Keystone Rolfing & Massage has seen a substantial increase in calls and bookings and we are just beginning!