Freedom Health Centers – Website Design
Freedom Heath Centers website design & SEO project is a great example of how a bad website design can be refreshed for success. When this client approached us to deliver a new, cutting-edge website design, we knew that we had to start from the ground up. The existing website had over 200 pages but each one was poorly designed and had very little search engine optimization integrated into the entire site.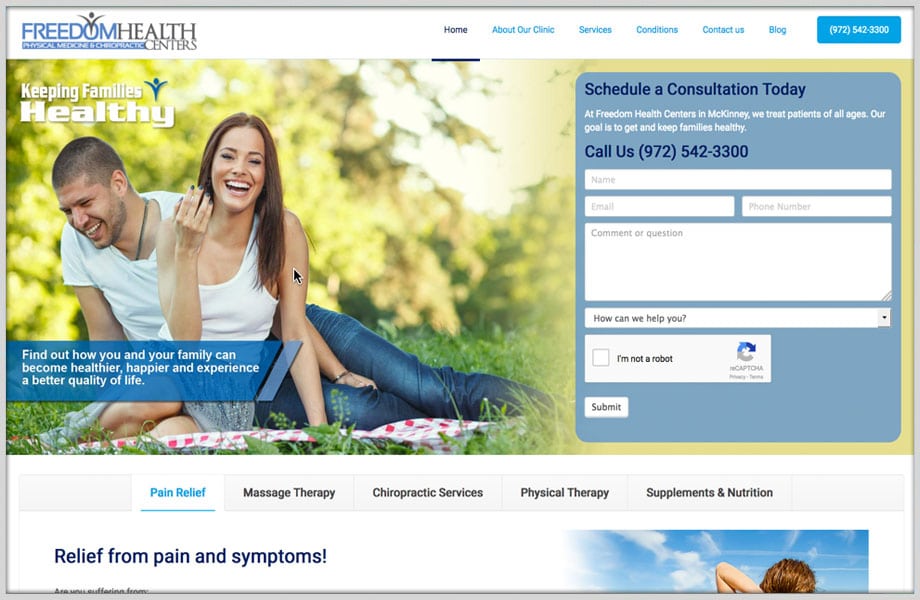 Website Design Geared for Google Top Placement
We broke up the work in 3 phases, each with a clear goal so that we could attain better search engine rankings quickly. The 3 phases were completed simultaneously for speed and efficiency.
Phase 1 – consisted of creating a brand new look and feel for the website. The existing site was not very exciting and looked dated. Our artists created a design that was fresh and clean. We used more white space, better pictures and broke the content into definable sections. This resulted in a clean, compelling website that is easy to use and navigate.
Phase 2 – was all about content. Each existing page was rewritten by our highly seasoned writers to accomplish two goals. The first was to ensure the content was accurate, to the point and highly relevant. The second goal was to make sure the content was written well, so that it would be easily picked up by Google, Bing and other search engines. And, ensuring the website was mobile optimized was also very important.
Phase 3 – finished the redesign by ensuring the entire site strategy focused on a precise search engine optimization strategy. This step was crucial in getting the website to rank high on page one of Google (and other engines). A well optimized website design is crucial. Each page name and subsequent link was considered to ensure we had a solid strategy. Ensuring people near the business could easily find them was key.
Results of the Website Redesign
Once the site was complete, there were several key steps to ensure the transition went smoothly. Aside from the end user experience, it is always important to register changes with Google. Some things that we do that consistently help:
Create a specific link strategy
Integrate a highly optimized page title strategy
Create content that is aligned to users & search engines
Add unique, compelling images
Ensure content elicits a call to action
Structure content so that it is easily digestible
Mobile-friendly and optimized
User-friendly and looks great
After one month, every page submitted to Google had been indexed and starting gaining rank.
After two months, there were several pages ranking on page one.
After three months, we saw a couple page one, position one, two or three listings.
We fully expect to have the main keywords targeted to be high up on page one within 6 months.
UPDATE: All of the targeted keywords for the website were showing in the SERPs on page one within 6 months. Subsequently, new pages are being indexed each month and rank is increasing. The redesign and SEO work have resulted in increased search engine results, calls and forms being submitted.
Chiropractic Website Design
Chiropractors have an increased level of competition when it comes to online marketing. A well designed website and subsequent search engine optimization plan can greatly increase success. Many companies offer packages that say they will help search rankings but not all services are equal.
Some things to consider when selecting your web design/marketing company:
Is the solution proprietary? (NO is the best answer here as you want to have the flexibility to move)
Will you own the website & content? (You would be surprised by the answer with many companies)
Is the content 100% unique?
Is the vendor Google Certified?
Does the company have lots of success stories? (that you can verify)
Do you understand what you are buying? (you should)
Does it sound too good to be true? (that is a key indicator – like $299 for 30 page site – what's the catch)
Portside Marketing is a small, hyper-focused company that works with chiropractors and other businesses to build, redeisgn or SEO websites so they rank on page one. When done correctly, the return on investment is excellent. Don't trust your website design, re-design or marketing with a company that offers one size fits all solutions. We have lots of happy customers who are more than willing to tell you about their experiences. Want to see some? Click here.
Call Portside Marketing today to find out how you can gain better results, increase your ROI and gain new patients using your website with a strategic marketing plan.